The pharmaceutical industry operates to the most exacting international standards of quality and technical excellence. These global organisations operate highly serviced production and research installations and require complex engineering services solutions.
Over the last 30 years we have established a strong client base among the leading biopharmaceutical and pharmaceutical companies, including Abbott, Alexion, Allergan, Astellas, Janssen, Mallinckrodt and MSD, amongst others.
Kirby works closely as a project partner with our pharmaceutical clients to deliver solutions to ensure that production and process facilities operate to optimum efficiency with close monitoring of process variables. We provide electrical and instrumentation services, specialist installations for HVAC and associated pipework in addition to providing power solutions for the HV/MV requirements of large manufacturing plants.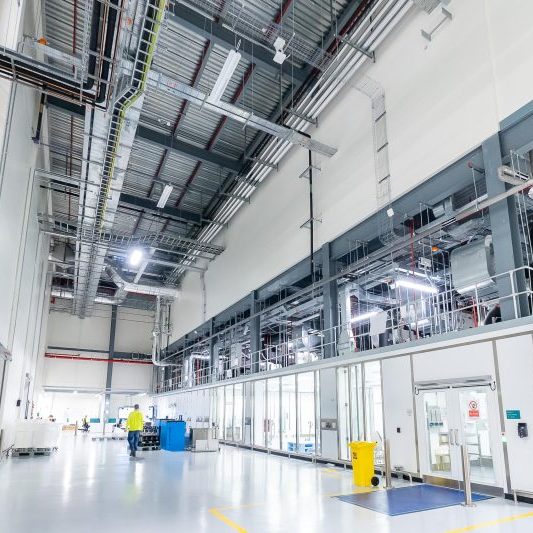 Project: Electrical and Mechanical Contracts in the CUB, Site-wide, MS & T and Warehouse Areas.
Location: Dublin, Ireland
Value: €25m
Sectors: Life Sciences
Services: Electrical Services and Instrumentation, Mechanical Piping & HVAC Services, and Off-Site Manufacturing
Kirby was responsible for the installation of all electrical services at the new MSD facility CUB (Central Utilities Building), MS & T Lab, Warehouse, Fallow Fit-out and external locations.
The new facility plays a key role in the manufacture of biologics-based medicines.
Off-site fabrication was utilised on this project which ensured that the project was delivered on schedule and to the highest safety and quality standards.
The project dimensions encompassed 12,000m² taking all scopes into account with an average of 80 Kirby trades on site.
SCOPE OF WORKS
Kirby was responsible for the mechanical and electrical scope of works.
The electrical systems installed by Kirby included:
MV Distribution
LV Distribution
Generator
UPS
General and Emergency Lighting
General Service Power
Mechanical Plant Service Power
Fire Detection and Alarm
Access Control, Intruder and CCTV
Earthing and Bonding
Containment of Voice and Data Distribution
Lightning Protection
Impulse Tubing – Gas detection system
The mechanical systems installed by Kirby included:
Chilled Water
Low Temperature Hot Water
Laboratory Gases
Smoke and Heat Exhaust Ventilation
Supply and Extract Ventilation Distribution
DWS
VRF Air Conditioning
Server Room Air Conditioning
Bioprocess Waste
CO2
Deionized Water
Humidification Water
Nitrogen
Oxygen
Process Air
Compressed Air
Instrument Air
Process Waste
RO Water
Steam
Soils and Wastes
Domestic Water Services
Plastic Exhaust
Stainless Exhaust