Electrical Services and Instrumentation
Kirby has acquired extensive experience in delivering electrical, instrumentation and ancillary systems for its clients across various sectors, including data centres, life sciences, industrial manufacturing and commercial.
Our in-depth expertise ranges from delivering large scale electrical systems on hyper-scale data centre projects, pharmaceutical projects, and ATEX and COMAH classified industrial facilities where we deliver complex instrumentation systems.
Our people have gained a reputation for knowledge, capability and unparalleled experience within these specialist disciplines and we believe that the quality of our personnel is our key differentiator. Our electricians and instrument technicians are highly regarded within the industry and we continuously focus in providing continuous training to maximise their potential.
We work very closely with our supply chain partners on the specification, installation and commissioning of systems such as fire alarm, intruder, CCTV, access control and building energy management systems to ensure the delivery of a fully-integrated electrical installation on site.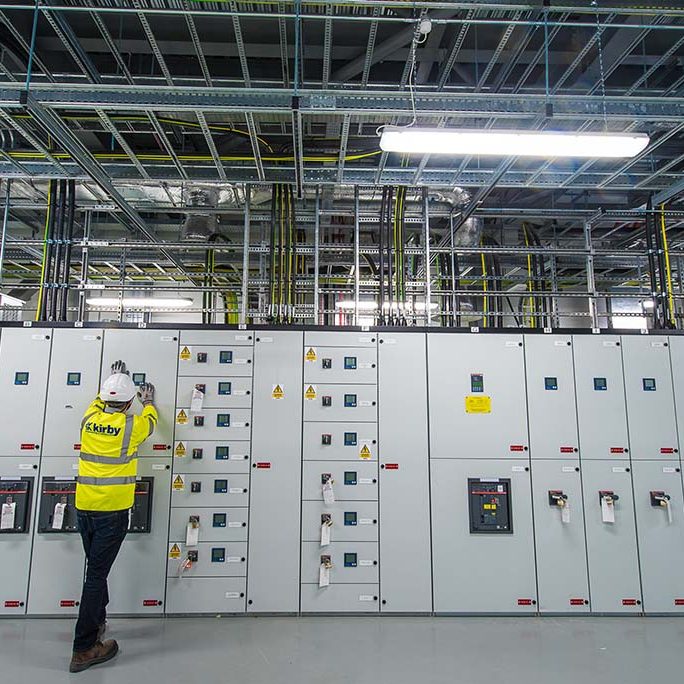 Project: Alexion BDS, CUB and Warehouse
Location: Dublin, Ireland
Value: €16.5m
Sectors: Life Sciences
Services: Electrical Services and Instrumentation
Alexion Pharmaceuticals, Ireland
Alexion, a global biopharmaceuticals company, has made a significant investment to build a bulk biological manufacturing facility in Dublin, which was its first biologics manufacturing facility outside the United States.
Kirby was responsible for the installation of HVAC services in the bulk drug substance building (BDS) and central utilities building (CUB), mechanical and HVAC installation in warehouse buildings and installation of BMS instruments; as well as complete installation and commissioning of electrical and instrumentation works at the CUB, warehouse buildings and all the external systems.
SCOPE OF WORKS
Kirby was responsible for the electrical scope of works.
The electrical systems installed by Kirby included:
MV Distribution
LV Distribution
Generator
UPS
General and Emergency Lighting
General Service Power
Mechanical Plant Service Power
Profibus
Fire Detection and Alarm
Access Control, Intruder and CCTV
Earthing and Bonding
Voice and Data Distribution
Lightning Protection
EMS
Impulse Tubing
The mechanical systems installed by Kirby included:
Chilled Water
Low Temperature Hot Water
Smoke and Heat Exhaust Ventilation
Supply & Extract Ventilation Distribution
DWS
VRF Air Conditioning
BMS
Water for Injection (WFI)
Instrument Air
Stainless Exhaust
Phenolic Duct