Mechanical, Piping & HVAC Services
As a fully-integrated services contractor, Kirby specialises in the delivery of industrial and commercial HVAC systems, installation of mechanical plant and equipment, as well as process pipework services.
Our attention to detail and particular focus on quality, coordination and planning, plays a significant part in the overall project success. The strength of our supply chain and project management structures ensures that our client's project needs are always met.
We operate within the highly-regulated sectors including bio-pharma and mission critical, delivering cooling services to large-scale data centres. We also deliver mechanical building services in the commercial office market. We supply, install and commission to the required standards and conform to client requirements with respect to cleaning protocols, traceability and documentation.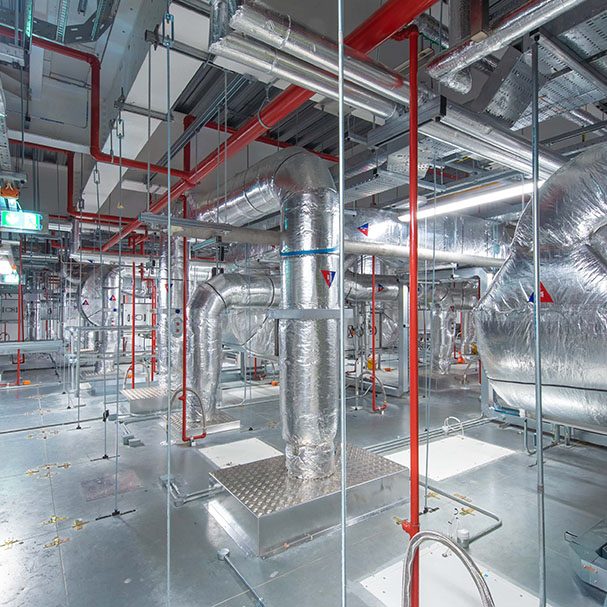 Project: Shire Pharmaceuticals
Location: Meath, Ireland
Value: €10.5m
Sectors: Life Sciences
Services: Mechanical Piping & HVAC Services and Off-Site Manufacturing
Kirby was appointed as the mechanical contractor for a new manufacturing facility for Takeda Pharmaceuticals.
The project involved the installation of mechanical and process pipework services in a new laboratory and office space, with total manpower peaking at 116.
Kirby implemented Building Information Modelling (BIM) to coordinate project delivery and prefabricated all carbon pipework, stainless steel pipework and ductwork off site which was a key factor in optimising efficiency and ensuring successful project delivery.
The mechanical and process pipework services installed by Kirby included:
Chilled Water
Low Temperature Hot Water
Laboratory Gases
Supply & Extract Ventilation Distribution
DWS
Server Room Air Conditioning
Argon
CO2
Deionized Water
Helium
Nitrogen
Oxygen
Process Air
Process Waste (Lab Waste)
Vacuum
Soft Water
Compressed Air
Instrument Air
Steam
Gas
Process Waste
Domestic Water Services
Stainless Exhaust