"A career in health and safety is hugely rewarding – you get to help ensure people go home safely to their families every day, and that's very satisfying," says Mick Fahey, Kirby EHS Manager for Ireland and the UK, who is proud to lead his team of 35 EHS Advisors at sites across the two regions.
The contribution of health and safety personnel in engineering and construction industry has grown significantly and Mick believes it's truly valued at Kirby: "We bring EHS and operations together at every stage. We focus on building positive and trusting relationships that help every project run smoothly. That's the only way we could have taken on a challenging initiative like Zero Harm, which we started implementing last year".
"The key is communication – creating positive relationships, demonstrating leadership and care between management and craft. We are focusing on encouraging craft engagement to make sure everyone feels they have a voice. We want to empower everyone to speak up if something isn't right, because it's in everyone's best interest".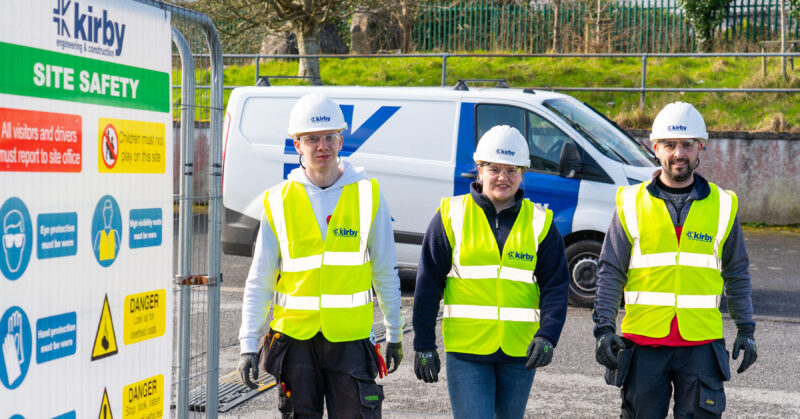 Kirby, which recently opened its first office outside Europe in Cape Town, has built a reputation for recruiting new colleagues from far and wide. It regularly hosts recruitment events in locations including Italy, Turkey, South Africa and Romania. The company leadership is proud to be building a diverse team across all of its locations.
Mick believes EHS is an area which really lends itself to a diverse workforce: "I did a stint in Sweden for Kirby and I was inspired by the team there to really work on nurturing a crew where everyone feels they have a place. We're making great strides on our gender balance and we have colleagues coming to us from Ireland, across Europe, South Africa, Bolivia, Brazil and many other locations and everyone has so much to contribute. I mentor students on our college placement and graduate programmes and I'm also interested in talking to people looking to change careers – one guy joined us after retiring from the army and discovered a love of EHS so there's room for everyone".
Mick has been working with Kirby since 2014, after a varied career in construction, including a position in mobile crane operation in Nigeria. He believes he made the right choice: "Kirby invested in me from day one. I absolutely love being on site and learning about what our operations teams are doing. Some support functions can effectively operate remotely, but to my mind, when it comes to EHS that simply can't work. You need to be on the ground, continuously built trust-based relationships, and care for one another".
Read the full article in pdf format here: https://www.flipsnack.com/cifconstruction/cif-construction-magazine-october-november-2023.html